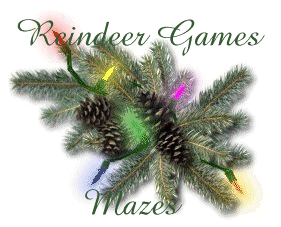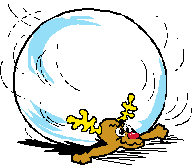 Hi, I'm Dancer, and I'm just a little bowled over right now--oops, wrong game...lol. Let's try this again. Hello boys and girls, I'm Dancer and I'm here to welcome you to the Reindeer Games Mazes area. This section is for you younger kids who like to help people find their way from one place to another.
I've tried not to make them too hard, but just hard enough to make you work a little bit at them. To play these games, click on the title below. When you get to the maze page, select File, Print and then do them offline. And kids, it's OK to have Mom, Dad, big brother or sister help you print the mazes out.
Have fun!
Site Menu
| Traditions and Legends | Christmas Stories | Christmas Music | Entertaining |
| Gift Giving | Holiday Animations | Santa's Corner | Holiday Tree |
| Holiday Forum | Holiday Graphics | Virtual Greeting Card |
| Advent Calendar |
mailto:a_time_travel_christmas@yahoo.com
Copyright 1999-2012
All Rights Reserved - B. Malheiro
May not be reproduced in any way without express written permission of webmistress.